Bringing 300 participants together for a multi-stakeholder event to co-create a manifesto
Seas at Risk wanted to hold a conference that would gather civil society organisations, scientific researchers, and EU policy makers and inspire them to contribute to a blue manifesto – a co-created document that would raise awareness about the need to care for our seas and ocean. It would also reflect the collective intelligence and dedication of participants to work towards this common purpose. As Visuality specializes in group processes and leads with a sustainable mindset, the synergies between Seas at Risk and the our team were a match from the start.

Aligning priorities and co-creating the concept
Visuality dived deep with Seas at Risk into their vision and goals for the conference. First, we took stock of what was already in motion. Next, we held two co-creation workshops to conceptualize the event and identify priorities. There we addressed each element in a logical, efficient, and sustainable manner. This was key to making sure it contributed to the goal.
Going beyond the usual with facilitation, conference materials, and logistical support
With the overall plan in place, we tackled each piece of the puzzle. We worked with different stakeholders and held weekly check-in meetings to keep all teams on track.
By visiting the venue ahead of time, we got a feel for what participants would experience and were able to create a pleasing space – with soundproof rooms for workshops and a floorplan that made sense. This also allowed us to design accurate, engaging signage and participatory conference material.
On the day of the event, a dedicated team member was responsible for providing overall logistical support that guaranteed a smooth-sailing event.

Master of ceremonies & scalable facilitation
Our team was in charge of being the Master of Ceremonies for the day and facilitating the discussions in each of the 6 breakout sessions. All of the facilitation required live visualization, with on-the-spot social media visuals that were shared in the conference's social channels, both during and after the event.
Each breakout session needed both a facilitator and graphic recorder. So, we tapped into our trusted network of professional facilitators to scale up our core team of 6 to 15. This expert team guided the breakout sessions and created instant visual summaries of the discussions, which were then used in the plenary directly following the breakouts.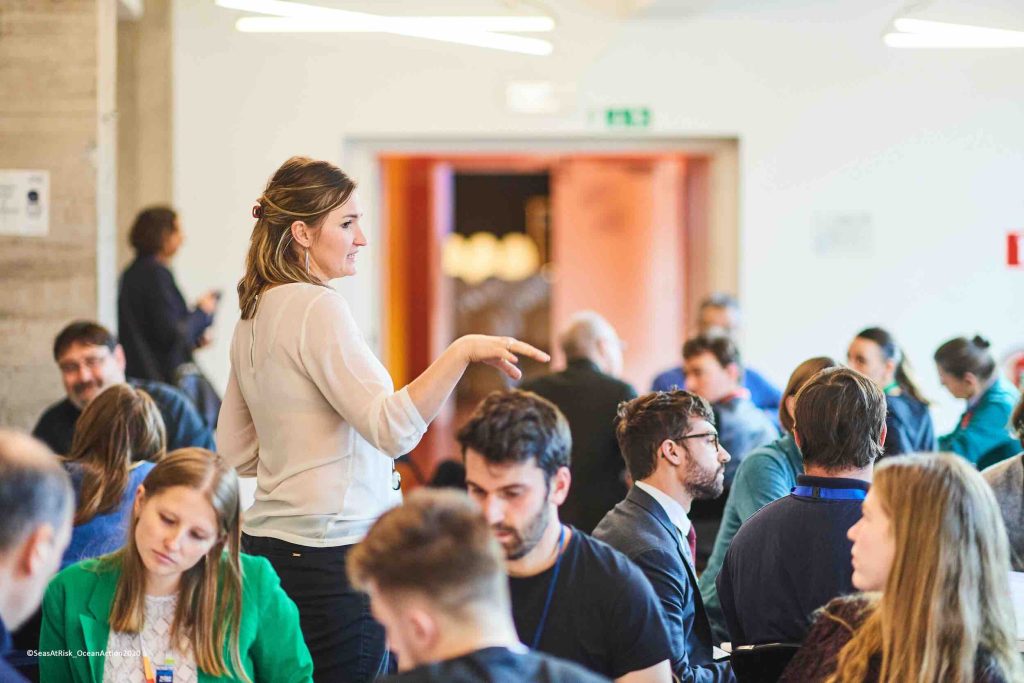 Engaging conference materials
The graphic design for the conference invitation, background and speaker documents was done with the participant experience in mind. The agenda for the day was designed to evoked a sense of movement for participants.
We also created an innovative interactive exercise "logbook" for conference attendees to use throughout the day. It was a handy tool that allowed them to relate to the content individually, while enabling them to stay attentive and interested throughout the day.
Exhilarated participants and an enduring manifesto
After several months of planning and numerous meetings, 300 participants came together for Ocean Action! It was impressive to see the amount of information that was brought together on the conference's main stage after the breakout sessions. Seas at Risk used the information gathered to complete its manifesto that would be used by stakeholders to further their advocacy goals.