Our visuals make your meeting or event shine!
Graphic Recording on the Spot (even online)
We draw while you talk. Our visual summaries speak for themselves in real-time! Better than those long, written reports that don't truly capture the vibe of the meeting, right? You might know it as: Live visuals, visual harvesting, graphic facilitation, visual facilitation, generative scribing or live scribing. We just call it GRAPHIC RECORDING. We do it on paper, an iPad and even through enriched pictures! You'll leave with insights that won't be forgotten and can be easily shared and revisited later on. Amazing, isn't it!?
Graphic recording is an opportunity to turn a meeting into a stimulating space designed to spark fruitful discussions, encourage collective thinking, and move the process forward. It's a thinking tool that engages your audience. By enriching your meetings conferences and processes with Graphic Recording you will create an environment that motivates people to be active participants, speak up, and share their knowledge to better reach the meetings objectives.
Curious how graphic recording can support your process? 
You want to organize an engaging event/meeting and add attractive visuals to spark the conversation & keep everyone's attention beyond Graphic Recording on the spot? We are the right partner! As visual facilitators we know best that visuals help people to think, participate and align as a group. You want help in creating visuals before, during & after your event / meeting?
Based on what you want to achieve with your meeting or event, we can help you in designing the right visual elements to spark engagement & interaction. Some examples of things we design for our clients:
Visual templates: Participatory processes need visual templates to guide the group thinking flow & harvest outcomes.
Visual program: the agenda or program visualised for each participant
Visual anchors: specific visuals that we use in the meeting/learning space to frame the conversation and give input. They can be big or very small.
Social media snippets: to communicate about your event or announce your speakers in an engaging way.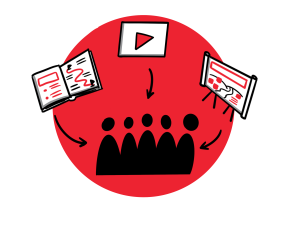 Making a graphic recording on the spot of your event is one thing, but capturing the vibe or process of your event can also be done by making enriched pictures. These are pictures that we enriched with visual elements. It's an excellent way to communicate about your event afterwards.
Your event was a killer success so you want to spread the word
with engaging visuals or video's! With all available material we make creative content for further communication, whether it is an aftermovie for your social media, your internal communication or an official report you want to spread.
Did we spark your interest?