On the spot (even if that spot is online)
We draw while you talk, making visual summaries that speak for themselves in real-time! Better than those long, written reports that don't truly capture the vibe of the meeting, right? You might know it as: visual harvesting, graphic facilitation, visual facilitation, generative scribing or live scribing. We call it graphic recording. We do it on paper, an iPad and even through enriched pictures! You'll leave with insights that won't be forgotten and can be easily shared and revisited later on. Amazing, isn't it!?
Graphic recording is an opportunity to turn a meeting into a stimulating space designed to spark fruitful discussions, encourage collective thinking, and move the process forward. It's a thinking tool that engages your audience. By enriching your meetings conferences and processes with Graphic Recording you will create an environment that motivates people to be active participants, speak up, and share their knowledge to better reach the meetings objectives.
Curious how graphic recording can support your process? 
Visual storytelling is the new language of the information age. As you experience the increasing change and complexity that surrounds us, you often need more than traditional graphic design to make visuals that are fit for your purpose. We do that! With our deep understanding of human systems and trademark co-creation sessions where we light-heartedly challenge you to get to the heart of the matter, we deliver visuals that work!
Visuality will help turn your complex messages into attractive stories through: 
Infographics
Explainer videos
Presentations
Manuals and reports
Training material
and more!
Curious how visual storytelling can support you?
On your wall, office window or other surface!
Your vision, mission statement or roadmap on your wall? 
Yes! We create eye-catching murals in your office space!
All we need is a flat, painted surface and our Neuland markers!
Let's discover what we do for you. Give us a shout!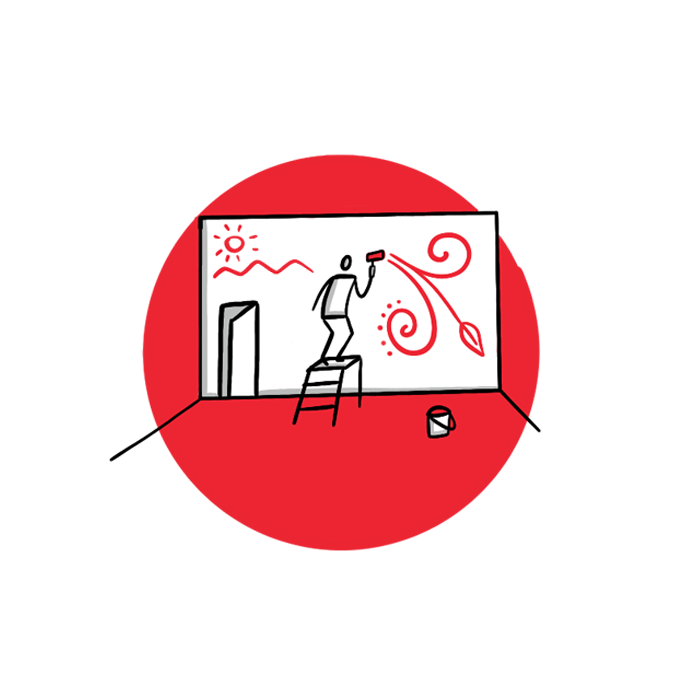 Frequently Asked Questions
Did we spark your interest?