The P&V Foundation supports active citizenship and fights against social exclusion of young people.  We supported them during the closing conference of their project with visual harvesting, moderation, event coordination and the design of their conference materials.
Young people are the future, and it is crucial that we ensure they not only have a voice but also are heard. Scientific research has shown that social, cultural, and economic gaps among young people are often difficult to bridge. 
The P&V Foundation decided to set up a project with a group of 20 diverse young people to select and monitor initiatives that aim to bridge these gaps. 
After a year and a half of active involvement, the project culminated in a closing conference on April 19, 2023, in Brussels. The goal was not only to reflect on the project but also to support initiatives that address this reality.
Together with the Foundation and the 20 young people, we co-organized an interactive day. The participants enjoyed a full day of workshops, debates, and sharing experiences.
Thanks to our diverse team, we were the Swiss Army knife of this conference. In preparation, we created a fun invitation video with the young people, designed the bilingual program booklet, provided visual signage to guide participants at the Beursschouwburg in Brussels. Furthermore, we set up interactive boards for participants to share their views on this issue, moderated the conference and facilitated a fishbowl debate. In addion, we  captured the outcomes of the debates in a number of graphic recordings, provided general coordination and guidance for the young people. In short, it was a comprehensive project, and we are proud to have helped P&V achieve their goals.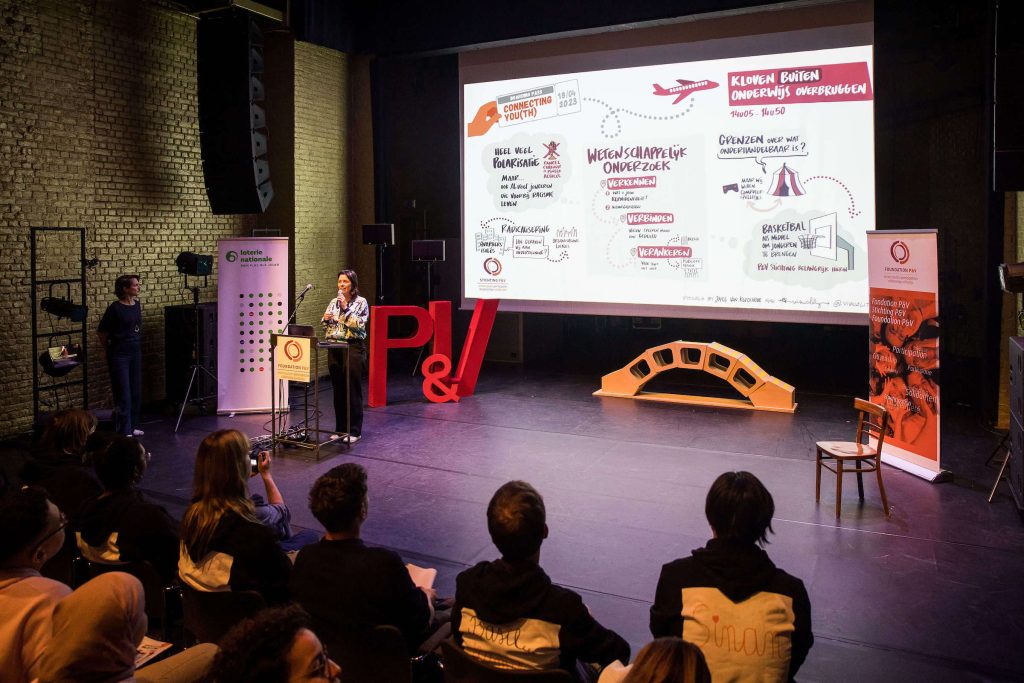 The turn-up was a real success! We were joined by150 enthusiastic young people and policymakers. The ministers of Youth from Flanders and Wallonia took part in the fishbowl debates. Furthermore, even the representative of the King of Belgium spent an interesting afternoon with us.
They got to know each other and their projects better, debated the gaps in society in a fishbowl conversation, watched the film Nous Tous, and participated in a range of workshops. In conclusion, we are pleased to have contributed to this excellent project by the P&V Foundation. We look forward working together with other organizations to create a better society for us all.
We would be happy to do the same for your project!