Facilitation & Team coaching (on- and offline)
Bringing people together needs to be worth your while! Whether your group must learn a new skill, define a new mission, solve a tricky problem, discuss team dynamics or make big decisions, we see to it that your process is a piece of cake with tangible, actionable and visual results. When you succeed, we get goosebumps!
We're not your one-trick pony. By mixing and matching different facilitation styles, our sessions are always tailor-made to your unique needs. We work with a variety of methods: Sociocracy, Art of Hosting, MG Taylor, design and systems thinking, self-directed learning, structured dialogue, appreciative inquiry, Deep Democracy, etc. Our dynamic approach gives you sublime support in:
Teambuildings & Team coaching
Strategy sessions
Board meetings
Brainstorms
Co-creation sessions
Interactive Webinars
Of course, we prefer to do this face-to-face, in a real life meeting. However, we can give you a top-notch experience in an online environment.
Conference Design (on- and offline)
Just say NO to endless PowerPoint presentations, long-gone audiences who are dozing off or checking their emails, and droning speakers. We can't even count the awfully boring meetings and conferences we've witnessed over the years… We know better! This is even more the case for online conferences as people can hide behind the anonymity of their own screen! We make sure your online participants are glued to their screen. 
Our experience and approach in designing workshops (see above) give us the expertise and experience to design 'large group interventions' that foster group learning, meaningful conversations and useful outcomes.
In post-corona times online or hybrid meetings, general assemblies and conferences will stay part of our lives. However, the competences to support these events are not always in-house. Visuality can help you to lift that weight of your shoulders.
We will design an event flow that encourages engagement (for online and offline participants) and that keeps people awake and kicking. 
During the online or hybrid event we assure a smooth link between the technology, the technicians and event organisers or the moderator. Our goal is to make the process so smoothly  that you hardly know that we are there. 
Looking for a seasoned moderator? We thrive on infusing energy, wit, and playfulness into your event or conference. Our mission is simple: to make your experience as an organizer smoother than ever before. We understand that a successful event relies on captivating the audience, and that's where our expertise shines. With a perfect blend of professionalism and charisma, we ensure your attendees remain engaged throughout the event. So sit back, relax, and let us take the reins. We can set you up in Dutch, French and English. 
Or are you rather  on the hunt for an inspirational keynote speaker who will leave your audience craving more? We bring a fresh perspective and an abundance of passion to the stage. Themes we're crazy about:
Power of Visuals
Group genius
Self-organisation and cooperatives
Teal and reinventing organisations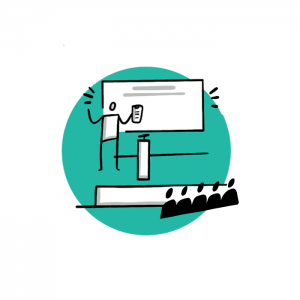 Did we spark your interest?