Wil jij een switch maken door een graphic recording training of opleiding te volgen? Laat Visuality jou leren hoe jij saaie conferenties, vergaderingen of andere bijeenkomsten visueel aantrekkelijk houdt. Ons doel is om procesbegeleiding innovatief, bruisend en actief te houden. Met andere woorden, creëer met de kracht van verbeelding een fantastisch resultaat waarin een groep boven zichzelf uitstijgt.
Tijdens de training leer jij de truc van visueel verhalen vertellen op papier, een iPad of met visueel verrijkte foto's. Met onze graphic recording training begrijpt het publiek waar het uiteindelijk echt over gaat!
✓
Op maat gemaakt voor iedereen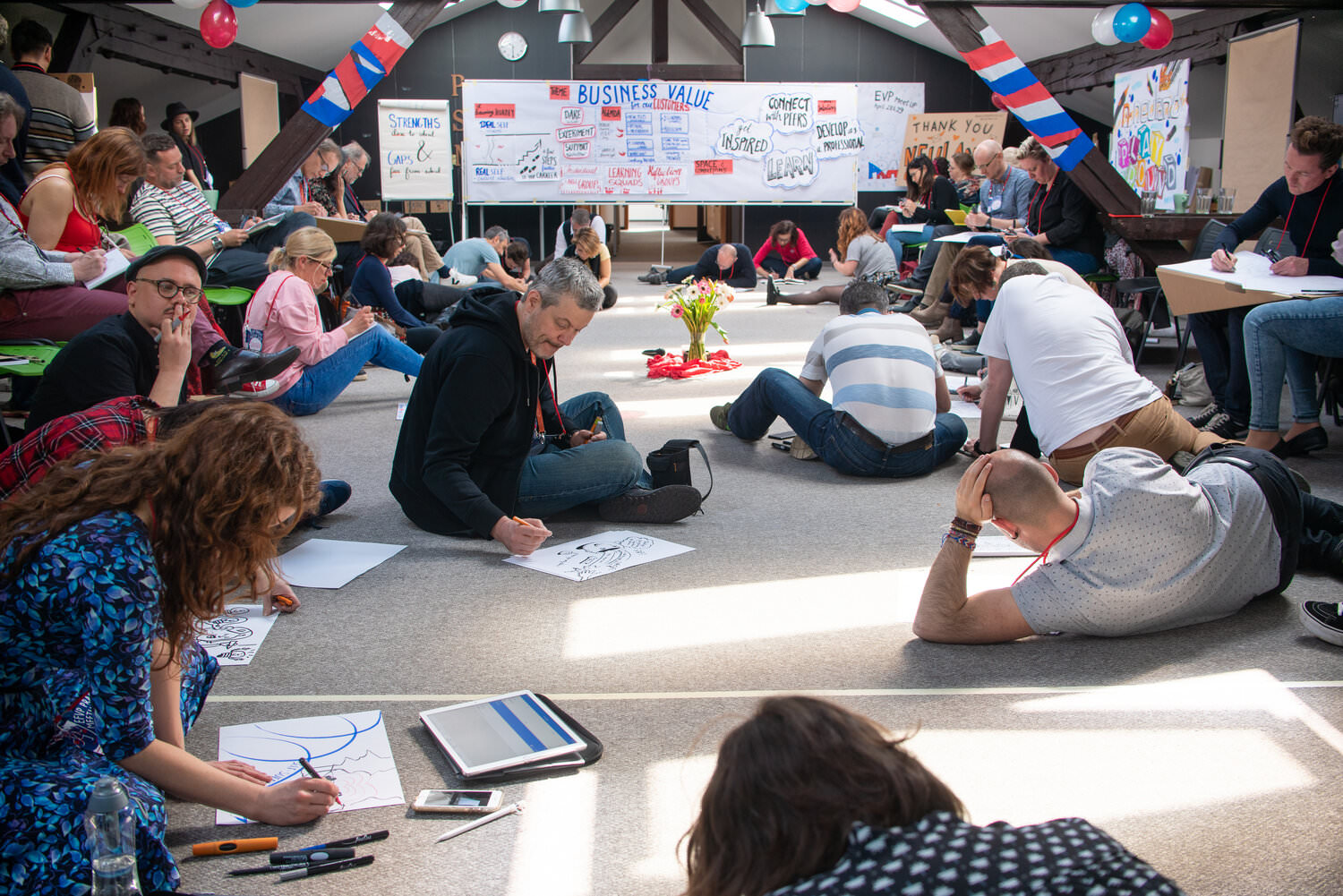 Wil je meedoen aan één van onze trainingen?
Op welke gebieden geven wij graphic recording training en opleiding?
Bij ons kies je voor een graphic recording training of opleiding op het gebied van visualisatie, facilitatie, communicatie of groepsprocessen.
Bij de graphic recording training of opleiding visualisatie leer je onder andere:
Te visualiseren op een flipchart (Flipchart Ninja)
Digital visual notes te maken
Visualiseren in je nota's (Sketchnote Ninja)
Visual storytelling
De basis van infografieken
De graphic recording training of opleiding facilitatie is gericht op:
Efficiënt vergaderen
Het overleggen met grote groepen
Conferentie-ontwerp
Participatieve trajecten
Modellen om beslissingen te nemen
Leren brainstormen
All-round processbegeleiding bij groepen
Bij de graphic recording opleiding of training communicatie ligt de focus op:
Geweldloze en verbindende communicatie
Het geven en krijgen van feedback
Hoe je generatieve vragen stelt
Pakkende presentaties ontwerpen die blijven hangen
Als laatste richt de graphic recording opleiding of training voor teams zich op:
Waardegedreven leiderschap
Het belang van een duidelijke visie voor jouw onderneming
Zelfsturende teams en horizontale structuren
Het ontwikkelen van meer vertrouwen binnen een organisatie
Individuen en groepen zelfgestuurd laten leren.
Kies voor verandering met Visuality!
Als bedrijf ademen wij positiviteit en geloven wij in een duurzame toekomst voor mens en dier. Alleen redden wij de planeet niet. Onze focus ligt op hoe wij als bedrijf verandering aanbrengen in klimaat, onderwijs en gelijkheid. Zo beperken wij onze voetafdruk door duurzame keuzes te maken.
Dit doen wij door samen te werken met sociale ondernemingen, doneren wij vijf procent van onze omzet aan pro-bono projecten en investeren wij in maatschappelijke projecten. Daarnaast zijn wij ontzettend trots op ons internationale netwerk, waardoor wij op grote schaal veranderingen maken. Inmiddels enthousiast geraakt? Kies voor een opleiding of training in graphic recording!
Tijd voor verandering?
Vind jij het ook tijd voor verandering en ben je op zoek naar een trainingof opleiding graphic recording? Waar wacht je nog op? Schrijf je vandaag nog in! Heb je vragen? Mail ze naar info@visuality.eu, bel ons op +32 (0)2 321 53 25 of vul het contactformulier in.