Visuality helps you to work better together during a strategy session. We do this by facilitating group processes in companies, organisations and governments. We work both with employees and management. We do this at European, national and local level. Group facilitation refers to the efficient running of a meeting. Unfortunately, many meetings are still not very efficient, boring and follow the principle of a single person talking while the others in the meeting listen. At Visuality, we want to break through this classic approach by organising interactive group processes. Continue reading for more information about how we handle your group process or strategy session.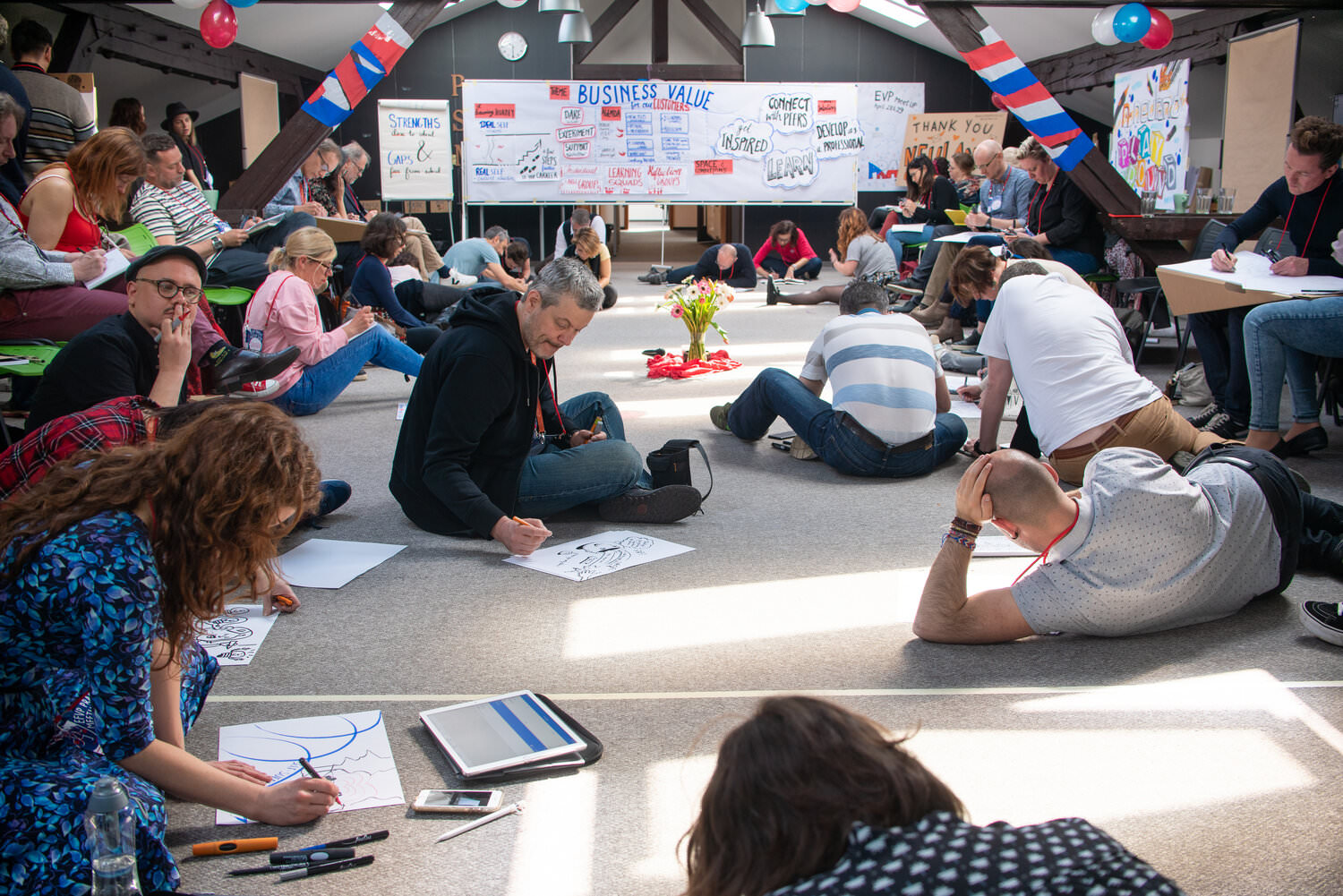 Do you want to participate in a training?
How does a strategy session work?
Before the team at Visuality can get started with a strategy session, we first organise a co-creation session. This means that we sit together with you to outline the target group and their needs, the objectives and deliverables. The whole process happens in a very dynamic and interactive way. After this, we take this information and turn it into a made to measure strategy session that achieves the results you need in an engaging and fun group process.
This atmosphere improves the trust between the different actors and creates a platform for a strong and durable cooperation. By supporting our interactive group processes and presentations with live scribing, we visualise what is really being said during meetings.
Our methods for meeting facilitation
For a strategy session and meeting facilitation, we work with different methods that we like to combine during participatory group processes. One of the methods we use for meeting facilitation is Art of Hosting. This is a way of working that starts from the personal and translates it to the systematic. We apply this with groups through sharing personal experiences, stimulating dialogue, and supporting co-creation. This method allows a group to discuss complex challenges and come up with good solutions. In this case, Visuality acts as a facilitator and ensures that the process runs smoothly. In addition, during meeting facilitation and group processes we also work with structured dialogue, visual summaries, self-directed learning, etc.
In concrete terms, you can call on us for team building, strategic sessions, board meetings, brainstorms, as a facilitator for a meeting and for webinars. Whatever help you are looking for, our process guidance and facilitation for groups is result-oriented and focuses on a good atmosphere and participation.
Do not hesitate to ask us questions
Would you like more information about our company or on how our strategy session works? Or do you still not fully understand how group processes can help your business? Do not hesitate to contact us. We are committed to making your meetings more interactive. Contact us by calling us on +32 (0) 2 321 53 25 or by sending an e-mail to info@visuality.eu.