At Visuality, we help you by means of live digital scribing or 'graphic recording'. It works as follows: during meetings or presentations, we make a visual summary in real-time. The purpose of live digital scribing is to make clear to your group what is actually going during your meetings, conferences, presentations or events. We do this in real-time and work both online and offline.  Graphic recording is an essential tool to us, as we are convinced that visuals make everything much more transparent. The Visuality team enthusiastically takes on every new challenge and is mindful of your company's exact needs!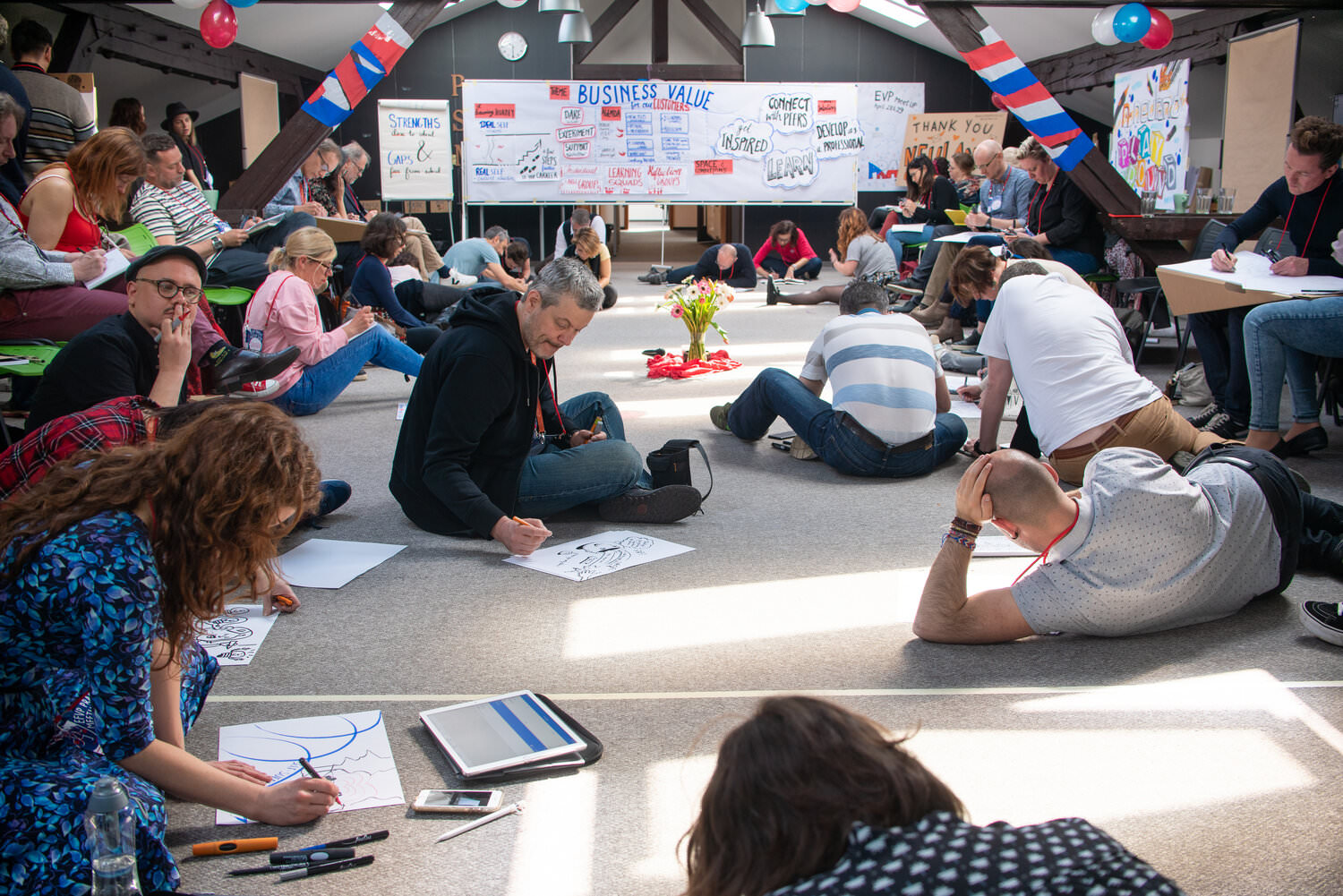 Do you want to participate in a training?
How we help you by live digital scribing
Thanks to live digital scribing or graphic recording, we summarise the essence of what is said at your events, conferences, board meetings, creative meetings, brainstorms, presentations or keynote speeches. By working with a visual summary, we make everything much clearer. During these sessions our visuals help your company to develop a new vision.
We also do this, for instance, during interactive co-creative workshops. You can read more about our company online. For example, you will read that we at Visuality attach great importance to sustainability and take active steps to put our money where our mouth is.
In addition to graphic recording, you can also engage us for meeting facilitation. In meeting facilitation, we make sure a meeting run smoothly. The goal is to make meetings more interactive and avoid a situation where only one person is speaking, and the rest is listening. The whole process happens in a very dynamic and interactive way.
Discover more about how we can help you
Using a real-time visual report, you can finally break with the tradition of meetings with boring PowerPoint presentations! Do you have certain wishes regarding your meeting? Let us know. We are happy to adapt where necessary! Live scribing can be done on paper, on an iPad or on visually enhanced pictures. We create your striking visual summary as well as interactive presentations or clarifying infographics. You will be amazed how quickly your audience absorbs all important information with the help of a real-time visual report! Is it still not entirely clear how use live digital scribing? Do not hesitate to contact us. Send us all your questions via the online contact form or via e-mail to info@visuality.eu. You can also call us on +32 (0) 2 321 53 25 or visit us in Brussels.